Happy Friday you little scallywags.
I have great news for you bridies out there. I know finding an amazing photographer is your first and foremost concern in life (riiiiight?) but coming a close second is getting your hands on some luscious paper and invitations for your guests to receive and oooh and aww and immediately place on the fridge in delight.  
well if you are still in need of Save the Dates and Wedding Invitations….please feel free to ENTER THE MINTED GIVEAWAY BELOW and cross your little fingers in hopes of winning. Minted has some seriously gorgeous paper products!
Here's how you apply. 
Since I know we all have a favorite past time of answering quizzes in magazines that tell so much about our character and personalities. I've filled out a few so you can get to know the lady (me) behind the camera. If you'd like to be in the running: Pick your favorite 3 Questions and answer them in the comment box. Then over the weekend, I'll be completely biased and pick my favorite answers…..and viola! that person will win $100 off Minted Save The Dates or Wedding Invitations.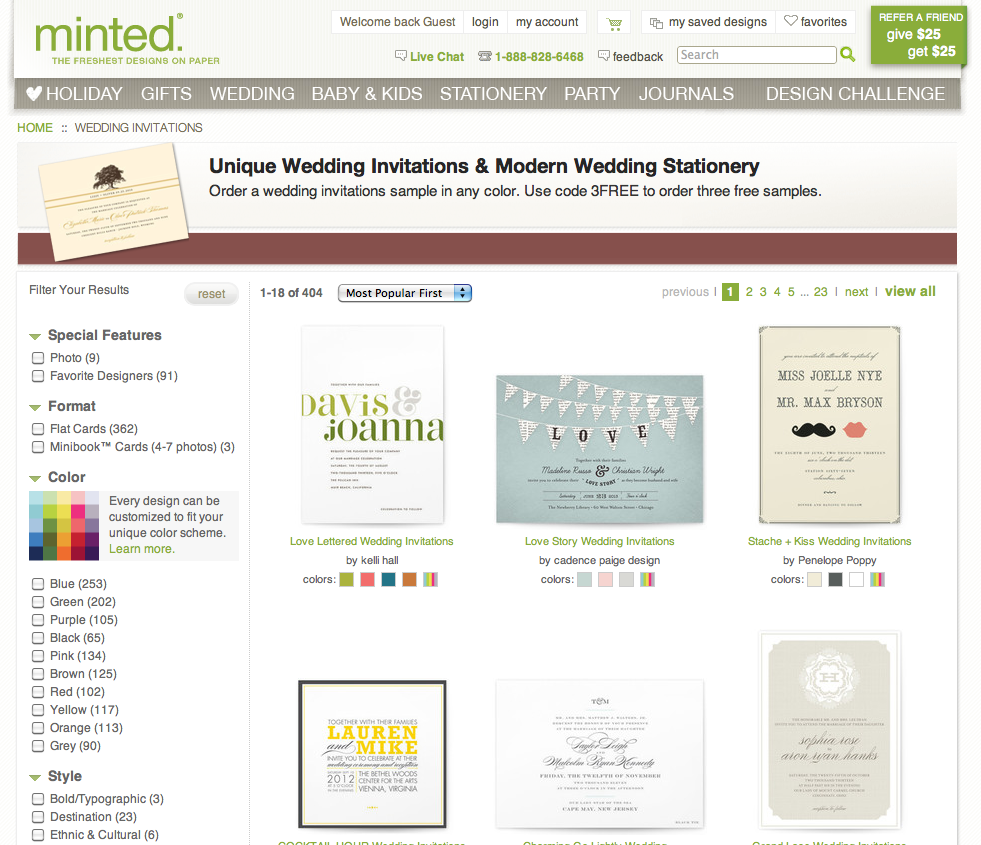 DO YOU LIKE YOUR HANDWRITING? yes, aside from awesomely being left handed….my hand-writing is one of my best qualities.
WHAT IS YOUR FAVORITE LUNCH MEAT? spicy chicken breasts.
DO YOU STILL HAVE YOUR TONSILS? yes, but honestly what are these even for?
WOULD YOU BUNGEE JUMP?  hell yes, but I'd rather sky dive first. i need to do that in 2012.
DO YOU UNTIE YOUR SHOES WHEN YOU TAKE THEM OFF? if it's a requirement…otherwise no.
WHAT ARE YOU LISTENING TO RIGHT NOW? mumford & sons.
IF YOU WERE A CRAYON, WHAT COLOR WOULD YOU BE? teal. obviously.
FAVORITE SMELLS? a man. particularly one that smells like a perfect amount of cologne. (not axe….no one wears that over the age of 13.)
MOUNTAIN HIDEAWAY OR BEACH HOUSE? hmmm beach if I have to choose. hawaii?
WORST THING YOU EVER SAW? besides fanny packs on dads? a head on semi-to-small-car collision. 2/3 young girls died. (that was a buzz kill question geeez)
FAVORITE SPORTS TO WATCH? the kind that doesn't happen on a TV. only live sports should exist.
DO YOU WEAR CONTACTS? yes, Im almost blind.
FAVORITE FOOD? mashed potatoes and ice cream. not together.
SCARY MOVIES OR HAPPY ENDINGS? scarrrrrrrrrrrrrrrrrrry all the way. if i watch one, i end up jumping a good 3 ft off my seat and screaming like a little pansy. i love it.
FAVORITE SOUND? who has favorite sounds?  babies crying on planes, definitely.
WHO WOULD YOU WANT TO BE TIED TO FOR 24 HOURS? tonhya. (lets be honest….RYAN GOSLING)
HAVE YOU EVER FAKED SICK? no but my great aunt died in junior high, i didnt really know her, i also didnt study well for the test the next day so i told my teacher i was too emotionally unstable to take the test because of her death. i'm pretty sure that's against the moral code.
WHAT'S YOUR FIRST THOUGHT WHEN YOU WAKE UP IN THE MORNING? what day is it?
HAVE YOU EVER BITTEN ANYONE? yes. i had a biting stint in high school. bit people all the time.
ANY PHOBIAS? I'm always terrified that there will be an old man standing in the little bathroom i have upstairs outside my room. is that a phobia?
WHAT MAKES YOU ANGRY? people being late to scheduled things.
DO YOU PREFER BRITISH OR AMERICAN SPELLING OF WORDS? british, because seeing it usually means i'm not in america
WHAT'S YOUR FAVORITE DRINK? orange juice / beer / pellegrino lemonades. individually.
ROLLING STONES OR BEATLES? not my generation. how about Queen.
WHAT IS THE FARTHEST YOU HAVE BEEN FROM HOME? Australia?
IF YOU COULD BUILD A HOUSE ANYWHERE, WHERE WOULD IT BE? Seattle. maybe Capitol Hill./ or Stockholm….because then I'd have a reason to always go there.
YOUR FAVORITE ARTICLE OF CLOTHING? dresses. so carefree i love not wearing pants.
WHERE'S YOUR LEAST FAVORITE PLACE TO BE? the dentist getting a root canal. unfortunately I've been there many a time.
WHAT IS YOUR FAVORITE KITCHEN APPLIANCE? who am i, your mom? the microwave.
IF YOU COULD PLAY ANY INSTRUMENT, WHAT WOULD IT BE? my voice. i wish i could sing. then piano, then guitar.
WHAT'S YOUR FAVORITE DAY? monday. the whole week is ahead.
WHAT'S IN THE TRUNK OF YOUR CAR? only God knows. but probably something rotten.
WHICH DO YOU PREFER, SUSHI OR HAMBURGER? I'm hoping for sushi tonight.
____
Oh I hope you're delighted to know those lovely random morsels about yours truly and remember to PICK YOUR FAVORITE 3 AND ANSWER THEM INTO THE COMMENT BOX FOR THE MINTED GIVEAWAY. you still can even if you dont want to be in the giveaway. lets face it, its friday and i'd love to be entertained with some random readings.  just leave a little * next to your answers in the box so I know. now go, enjoy your friday!