the gifts we give ourselves are often the best, eh? i gave myself a birthday present. one i'd been wanting for over, well, since before my last birthday.
a flip switched and i finally decided i would wait no more. they (….yes, plural) are here. and here to stay.
not too many decisions we make are permanent. at least today. you can take it back, change it next month, become more educated and switch sides. this is both good and bad. in some areas though, i think its vital to make a decision and stick by it, know why you believe it and hold to it, be known for it and even stand out for it. tattoos are quite permanent and although many are done for the art and beauty of it, to me, i think it is a unique way and opportunity to tell who you are and a characteristic you hold to your core. they are public, and if they're not, when asked most people wouldn't lie they had them. which presents an awesome opportunity to have a conversation, tell your story, say where it stems from.
so i got two stories. two reasons. two tattoos.
FIRST up to bat: HE > i – i cannot take credit for coming up with this. it first came from a clothing line (HE>i) in Hawaii who saw it and was brought back by my good pal lonnie. But, once I saw it…. I fell in love and felt if rang 1000% true to my perspective within my faith and so completely applicable to what i am living to make my life about. A wee bit back, I wrote a really personal post about how "i am nothing" …the main message was summed up perfectly in this tattoo. what i have, the person i become, whatever i do, wherever i go…no matter the success, what my name brings to mind, what images i take….NO matter. I aim to do point everything back to Christ. I am in my art and i model my life the way I do and with the actions I do, only because of the model of Christ. i can never be what is praised. HE is – and always be – greater than i. my life is impossibly in debt to His grace, mercy, blessing. I don't want your eyes on me, I want to do what i do, to interact, to give, to live, to encourage…only to be a living sacrifice and way to reflect the power and presence of the Lord in my life. i fall short at being able to fully explain. In so many ways, my faith and my life is able to be explained by this simple phrase.
**in the short time i've had this tattoo already, i've been able to have conversations about what it really means to me. i'm so excited for future conversations with seattlites and those around me. explaining it's meaning.**
SECOND to tell: "cherish the present" – this has a long, loaded story. i'll try to be to the point. a challenge in my life over the past years has been reoccurring thing, 1) not getting caught up in the plan. letting the plan overtake me and make me lose sight of the here and now. whether it was a goal, a paper, a trip,…basically whatever was in front of me at that moment, i can't take my mind or eyes off it. this sounds less than it is. i am a motivated person, i know what i want and often times i just go go go without even realizing the moments i chose to forego or be present in because of what i wanted. this factor in my life had affected my relationships and friendships in ways i didn't want it to. it made me rigid and too consumed "with the plan." even when i was in the thing i wanted to accomplish, was i there, i so often couldn't even be present in enjoying it. so much of my habits were about doing doing doing, not actually being there, once i even got where i wanted.
i know that, in order to really truly cherish this gift of life, it's not even only about those big life events, it's about the daily things that got you there. not the fact you achieved point ___, but each day, step, decision and person that you were there along the way. not being in this dream career that feeds and brings me so much fulfillment, but taking an afternoon to walk a few blocks with a friend, having a long coffee, going slow enough to have a meaningful conversation with a person you may never see again…so many things that make living life meaningful each day. i'm living each day, not just living for the future.
2) a very real way this stemmed into my life. my great gramma desyl was in incredible part of my life. my papa's mother. i can't even begin to explain her presence. the last time i saw her, she was 104 years old, it was mothers day and i surprised her. She was alone at a assisted care facility. i gave her a bright pink manicure and talked about all the mothers days she has had. i gave her a card that made her cry. i took her to bed, tucked her in and watched her sleep. teared up as i left. something was just different. i was home in spokane one other time, i could have gone and seen her. i didn't. i was too busy. she died shortly after. ever since i found out at 7:30 a.m. on July 6th 2008 – I have regretted not spending more time with her. i took her presence, alive and well, forgranted. i miss her deeply and intensely still. i had regret in my heart always, i was so stupid to not soak her up. but we do this so many times and with so many relationships, even when someone is not 104 years old/ then, when my papa was deep into his battle with Parkinson's, took that regret and changed. i spent every moment i could, incredible moments, ones i'll never forget with him. he died last month, and i miss him and cry often over the gap he has left. but i have not one ounce of regret. i cherished every moment i had.
the thing is. life is no guarantee. it spins on a top and can be gone, or different at any moment. last week i found out my uncle has Lou Gerhig's disease. he has 2-5 years to live. he is 46 and has a beautiful wife and 3 kids. this morning i found out my other grandpa (boppa) has extreme bladder and prostate cancer. how is this possible. the hits just keep coming. it spurs me to live and cherish life and every day i am blessed with. it has forced me to want to live in an incredible way…to honor life and just how sacred it is.
one of my greatest challenges is to stop looking to the future and STOP and BE here. i am slowly ridding myself of this challenge, although it comes back at times. and it is funny (and perfect) the way photography has come into my life. God has blessed me with something that literally MAKES me cherish the present. it's why i get the pictures i get. it is a physical way to cherish the time a person is in. you will never be in your engagement again. you will never be able to go back to experience your wedding day the way it was. you cannot stop time. i have a camera in my hand and because of it, my life has been changed. my outlook has been changed. it has allowed me to cherish the present. so many reasons to cherish exactly what you have, when you have. the little moments, conversations. thank the Lord so many of these moments are able to be captured with my camera and in turn, force me to be there in the moment, cherishing that time. it's now one of the strongest parts of who i am.
i want my life to reflect these two concepts in the best way i can. i could go on. but just know….there is a story and i will have these forever. to remind me, to have conversations and to tell others.
My tattoos mean so much to me. I'm in love. and i make no apologies for how much i talk.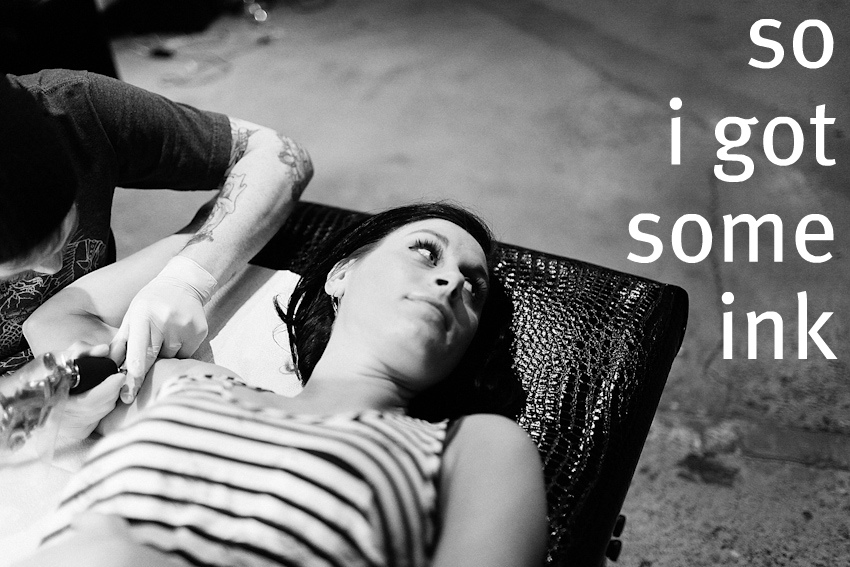 you may recognize him from one of the best shoots i've ever done (ha, in my opinion…..) You wouldn't believe how many times I've heard "oh my gosh….that antler couple, the guy with the beard…." Yes, he is a tattoo artist.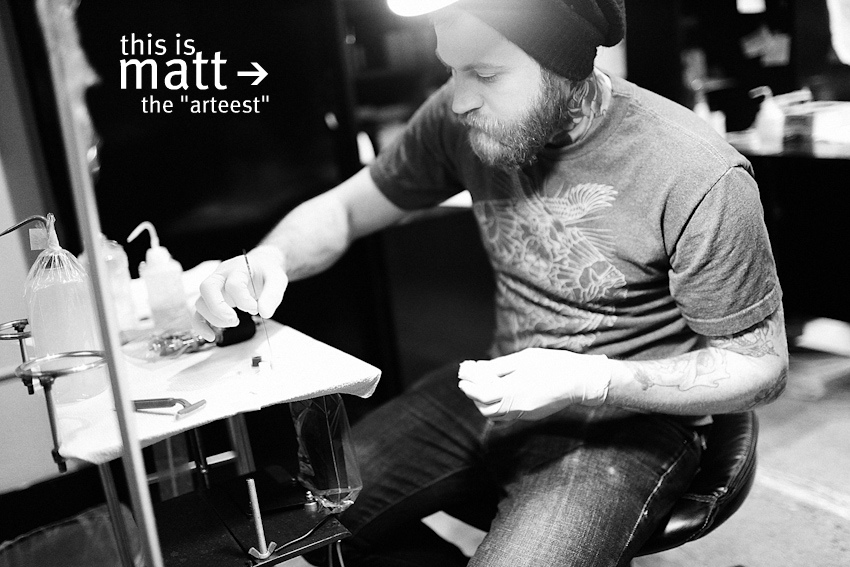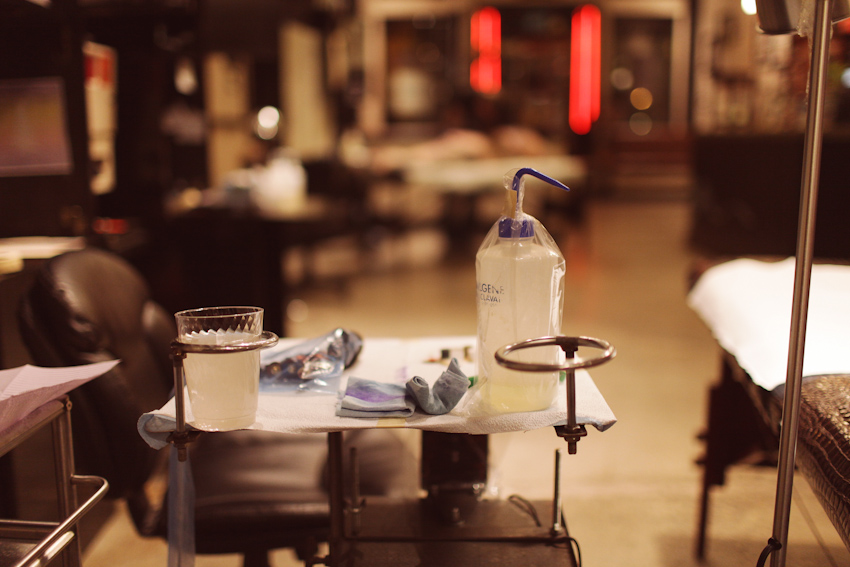 my accomplice.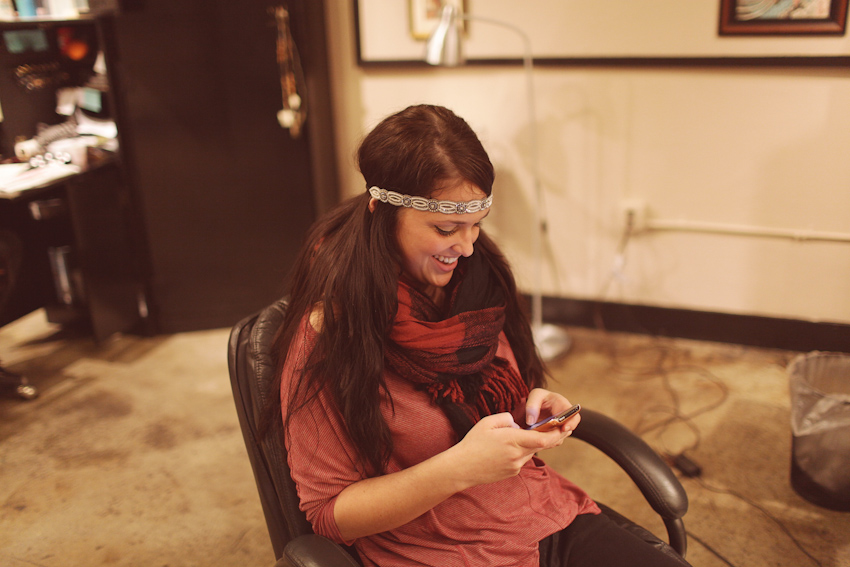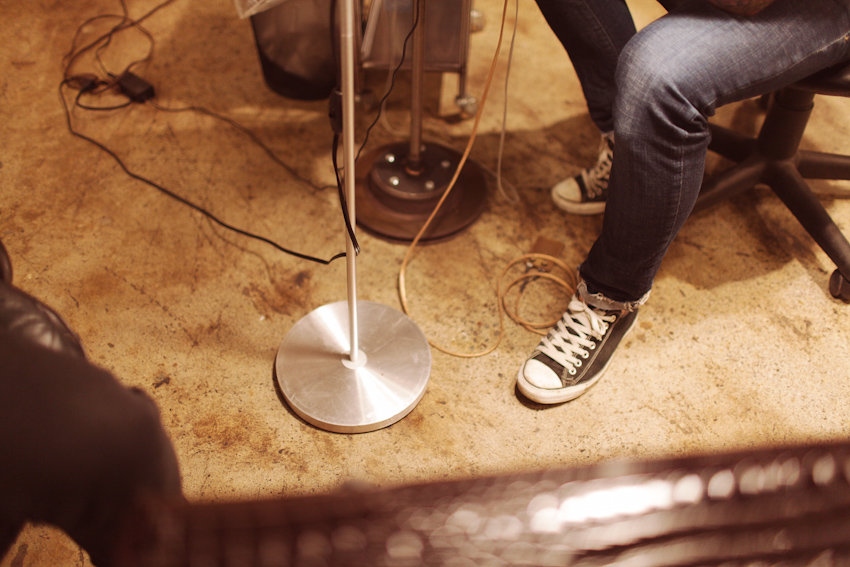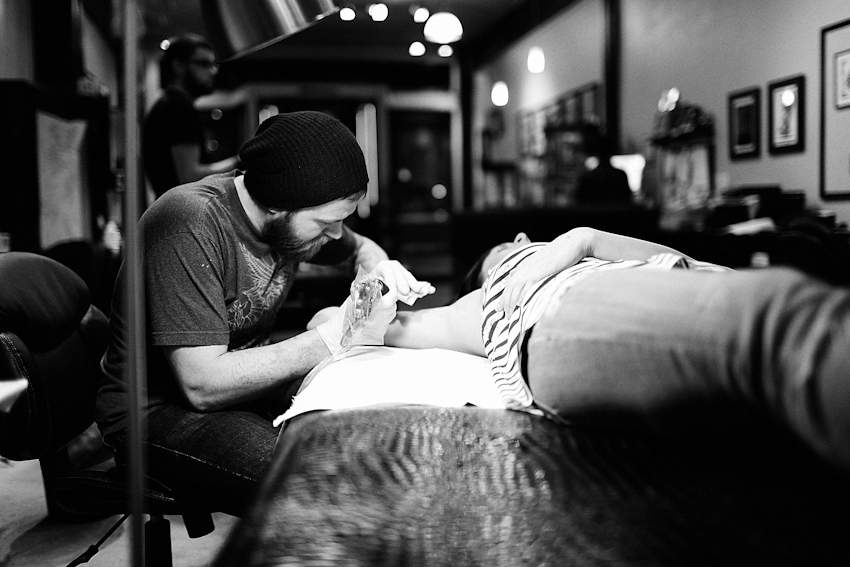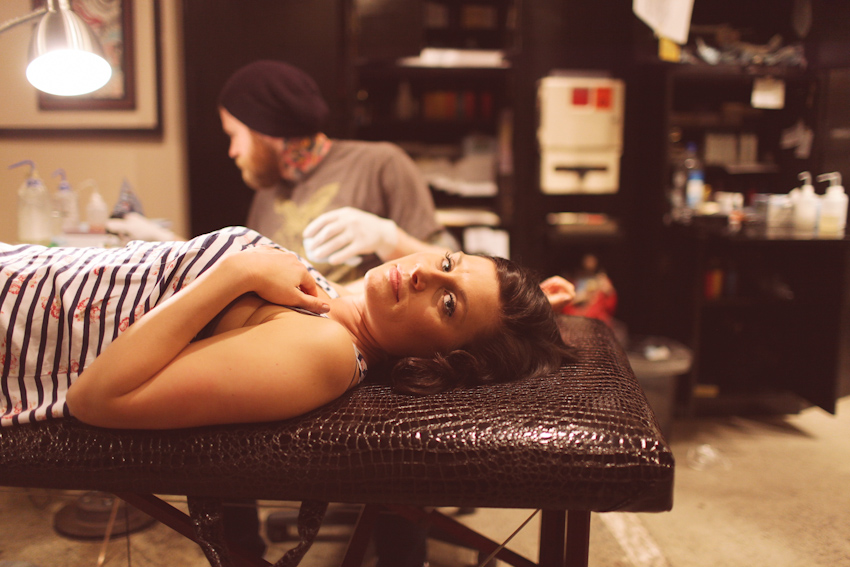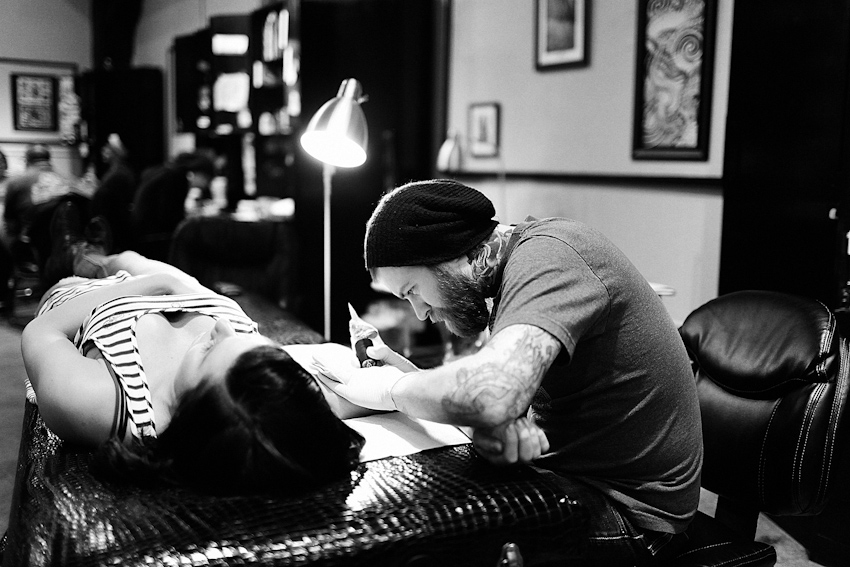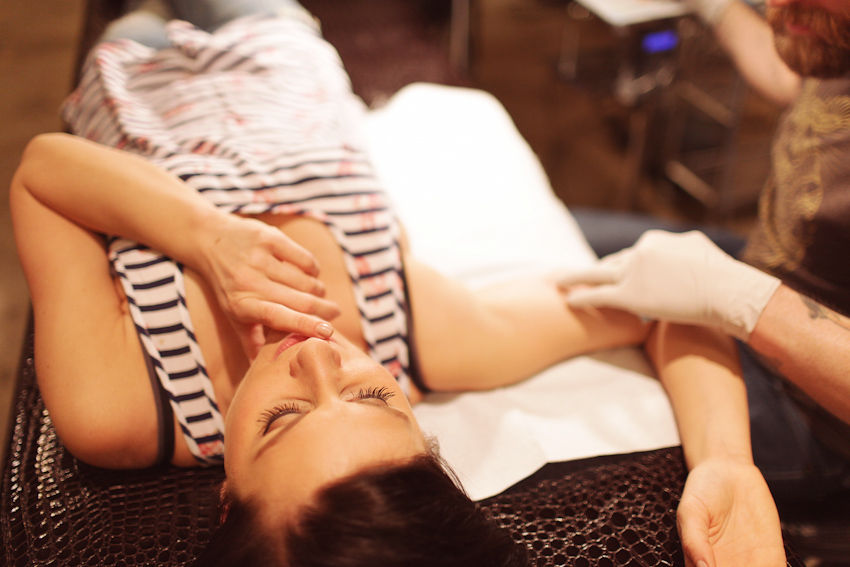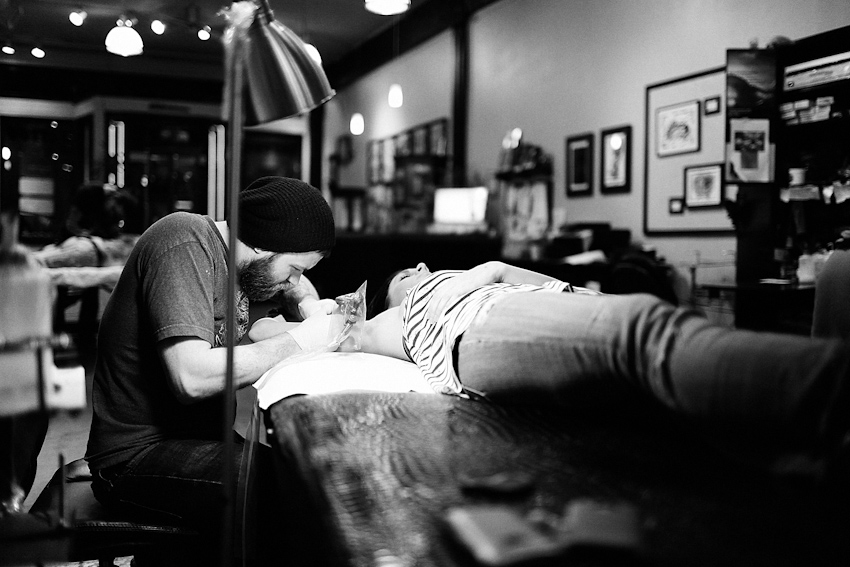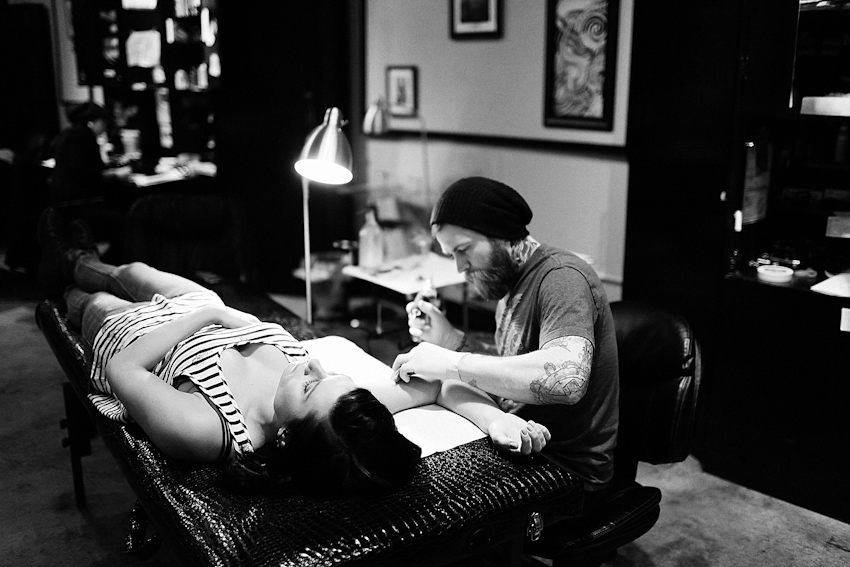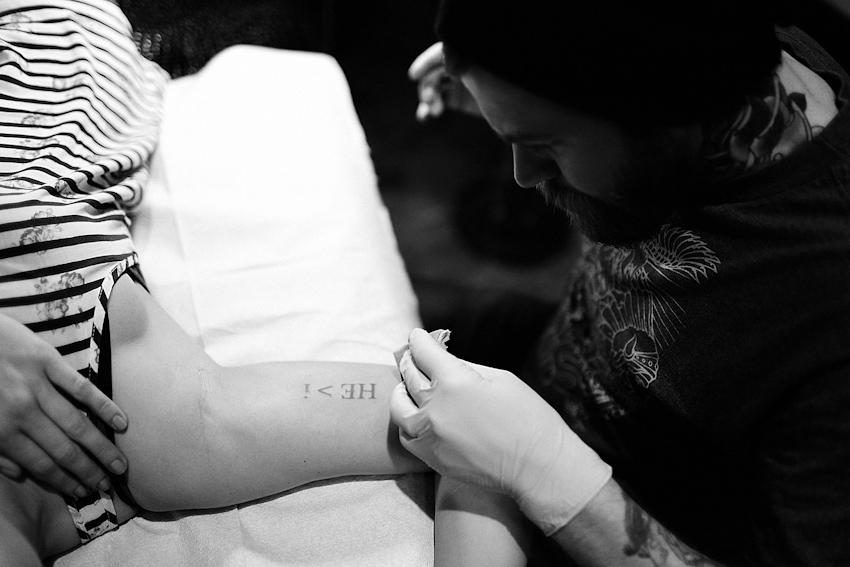 ok that part hurt. the "i"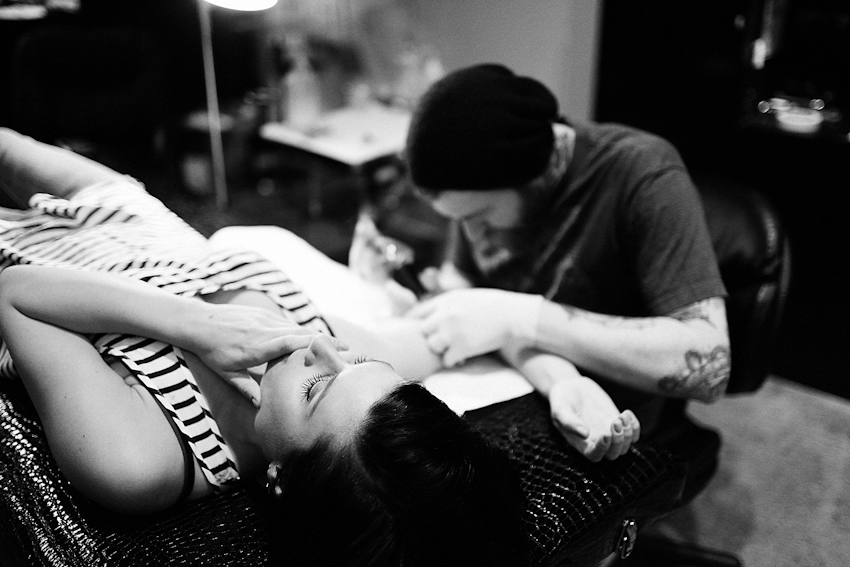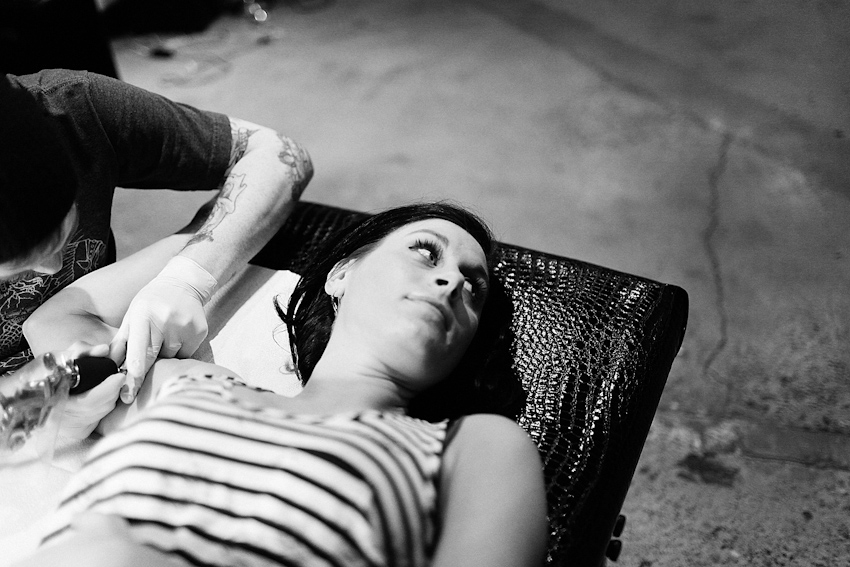 the "first look" – ha. this is my legitimate first reaction.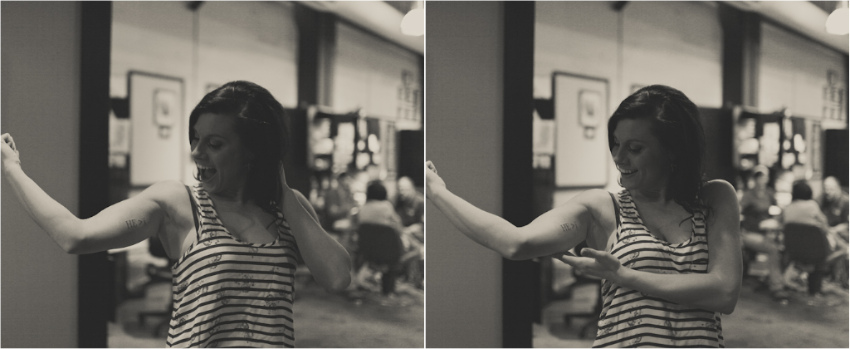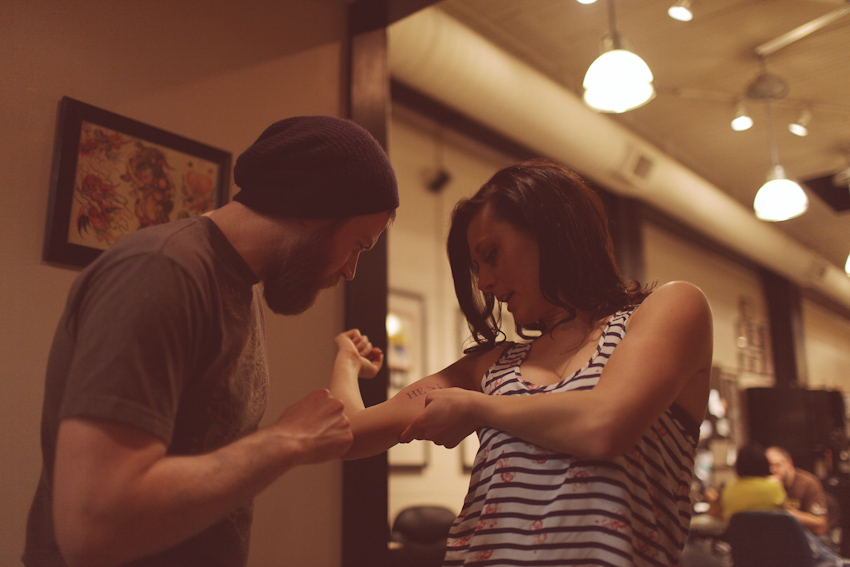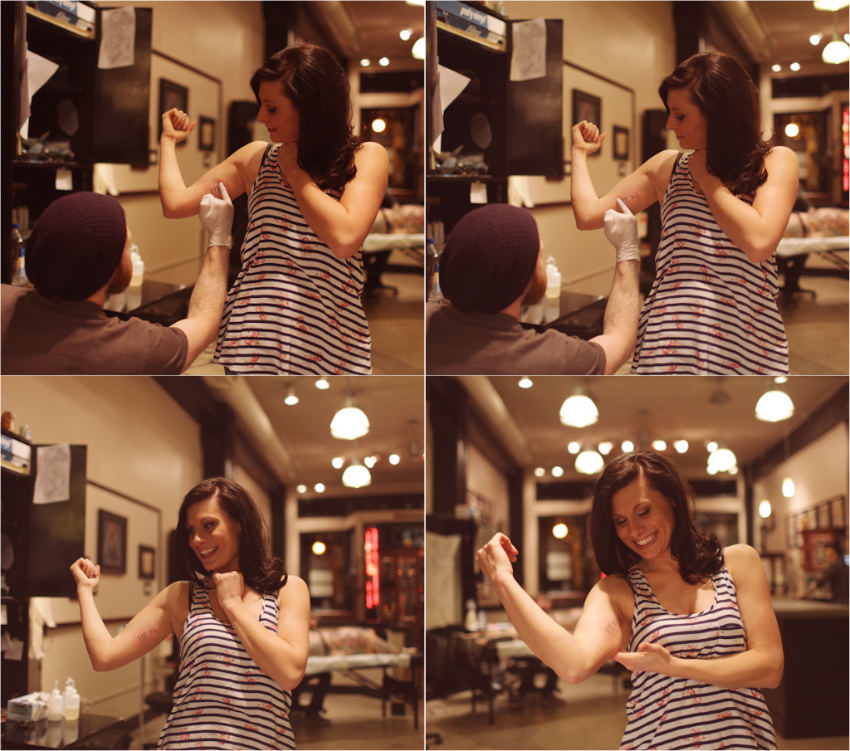 om(gosh) overly giddy andi.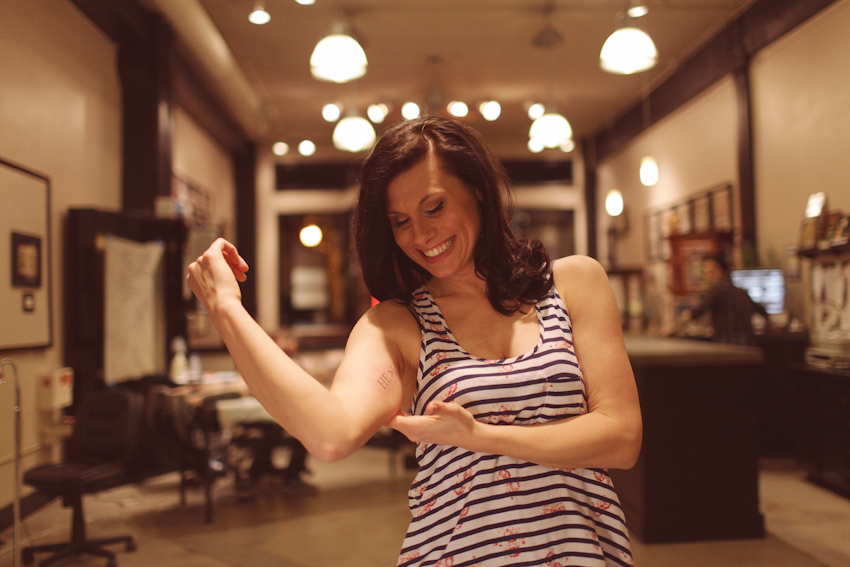 i'm obsessed. i couldn't love it more. it turned out 1940223201 x's better than i imagined. (isn't this dark now or in person, its actually wayyy lighter now) – originally i wanted white. like really bad. but, after mannnnnny times talking this over with matt and anyone else within standing distance, we decided to go with a grey-green-vintagey color and i am so so so so happy with that decision. it's a gorgeous color. subtle yet still visible.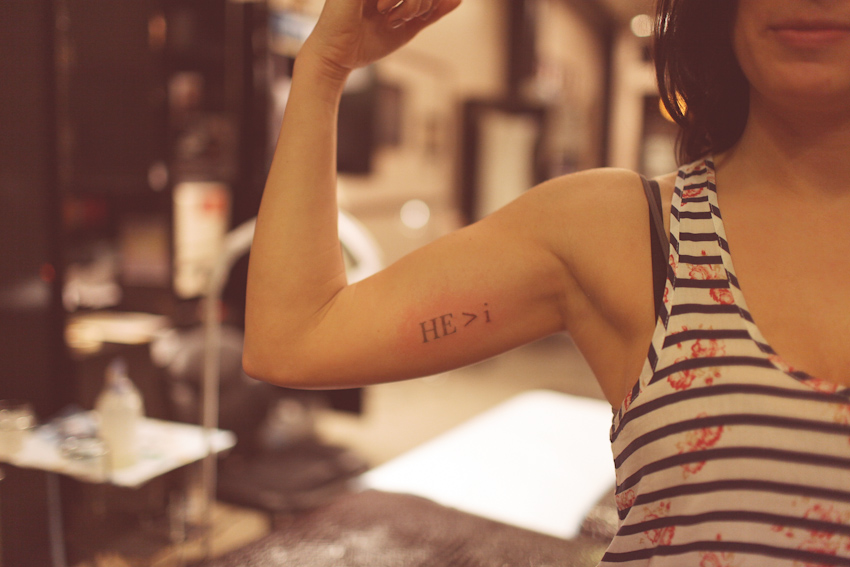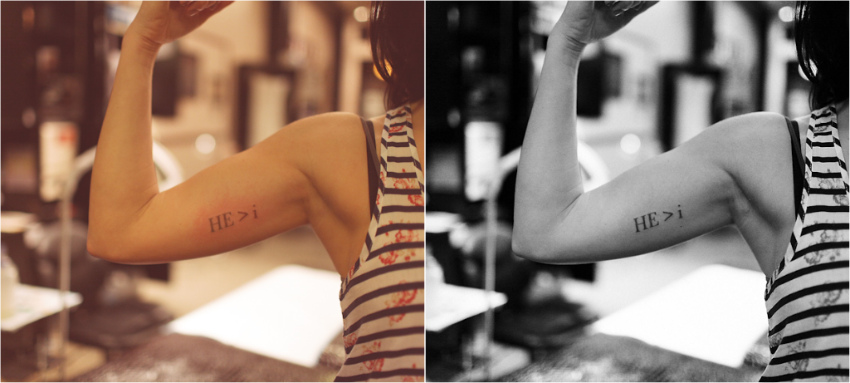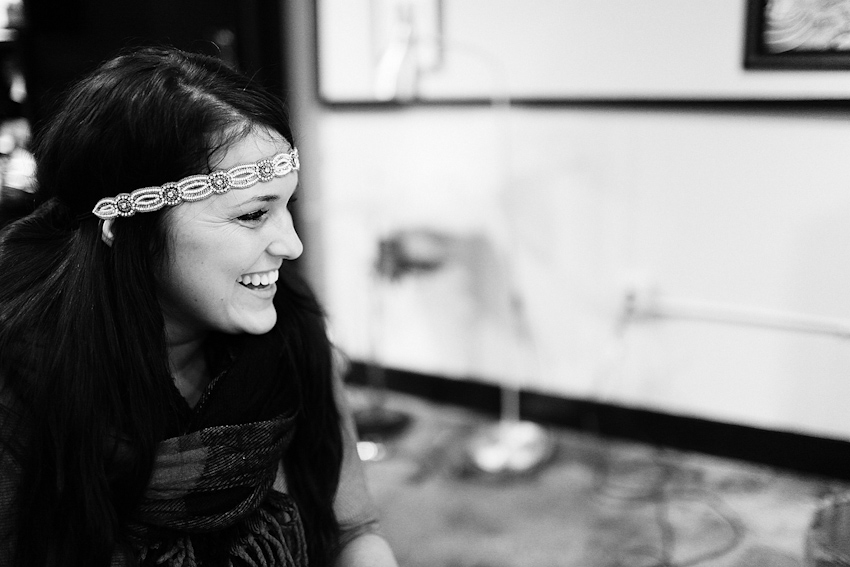 time for #2 "cherish the present"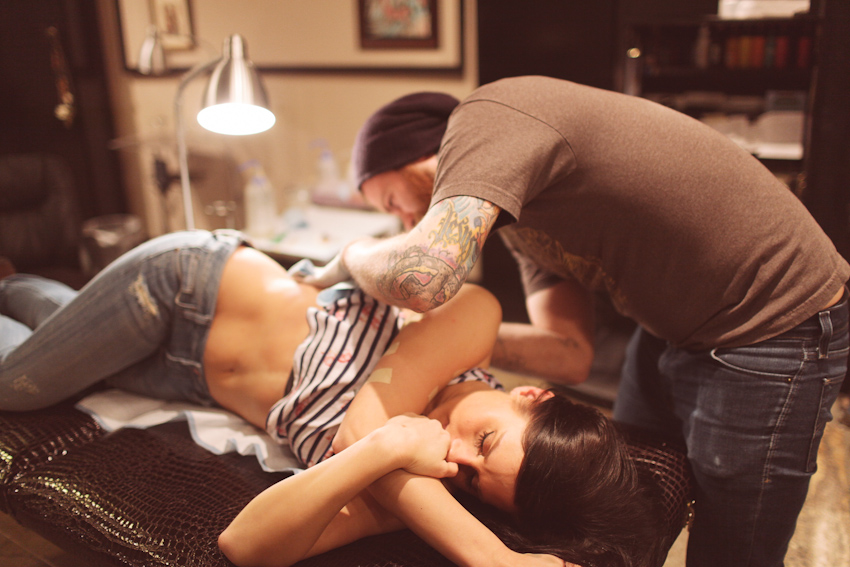 it looks like i'm in labor or something…i'll be happy if i'm this peaceful while in labor, let s be honest.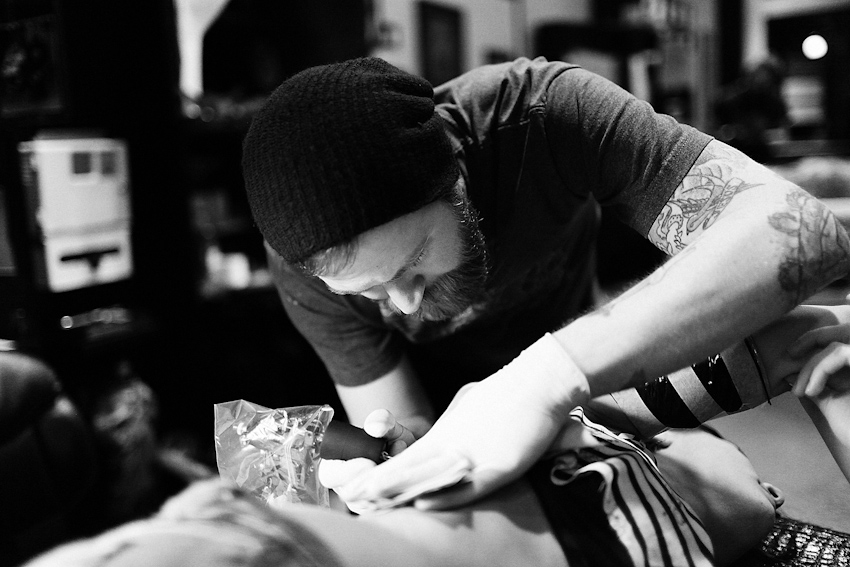 never knew i had that vein in my forehead.

hold still hold still hold still dont breathe dont breathe dont breathe….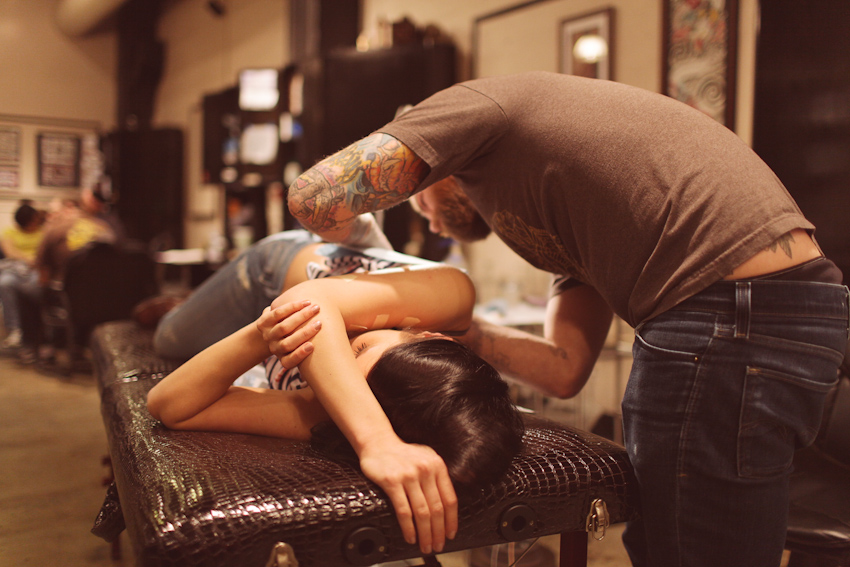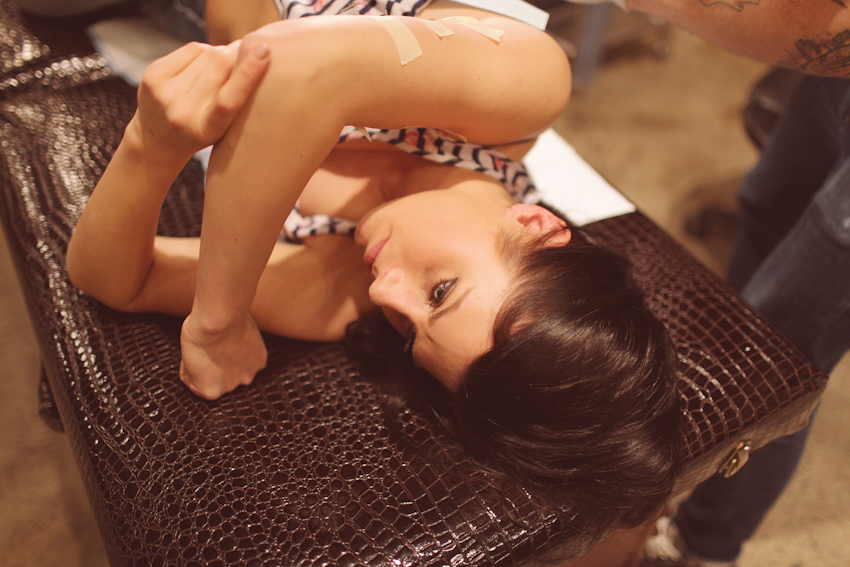 my great gramma's handwriting. it's her writing, taken from a card she wrote…..blows my mind he could do this. always have you with me gramma D. my papa LOVED the idea that i was getting this in her writing, i oh so wish i could be able to show him.  / and it's not crooked in person, although it looks like it is here.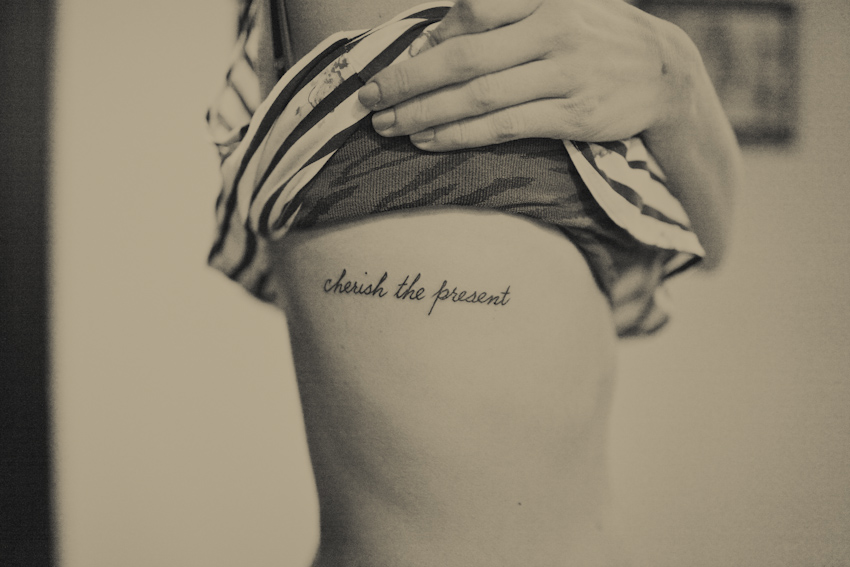 closing up business.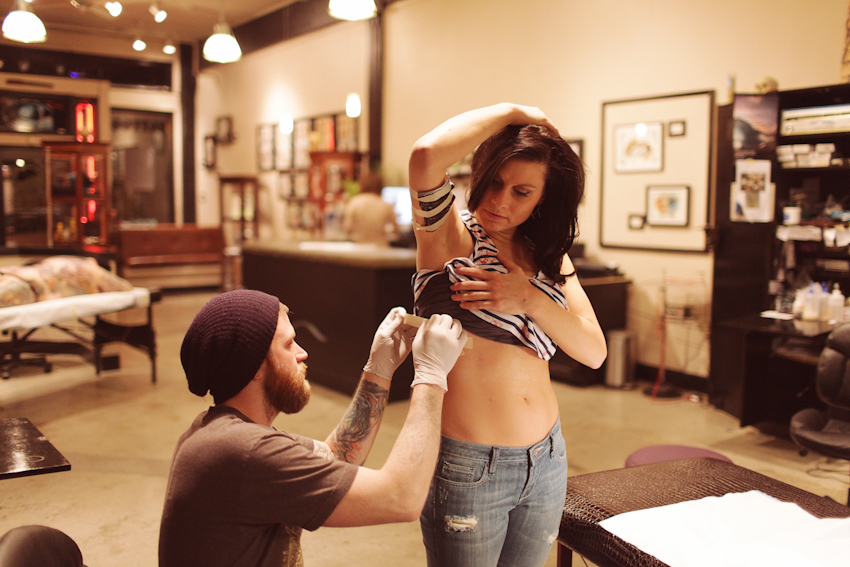 i love how it looks. i love the meaning. i love where it's at. love it all.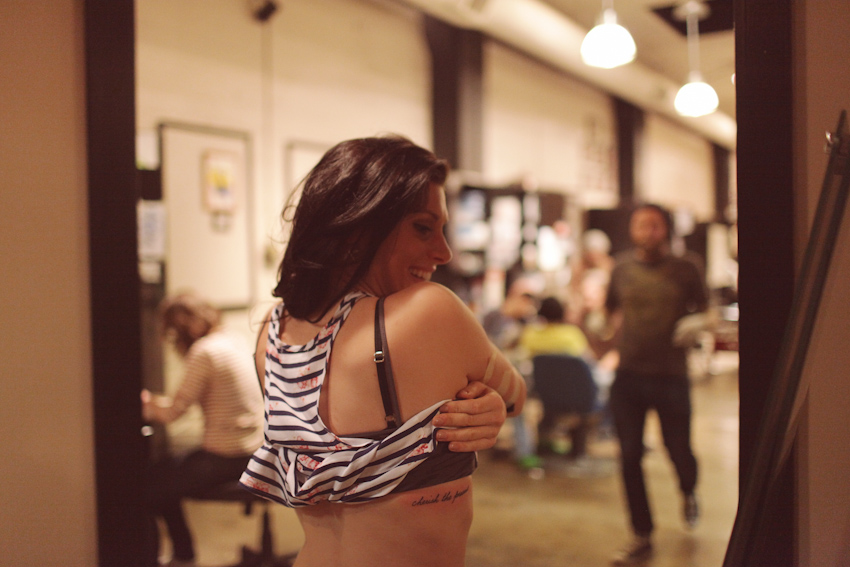 it's been a few days since the work was done and they are shaping up nicely. taking care of them has been like taking care of a baby. every couple of hours, cleaning…lotioning, babying. seesh. that's all i can do for the commitment of taking care of a living breathing thing.
thanks to KT for going along with me and for snapping some pics. i had my 5D all set to go, gave her a few shooting instructions and said…..shoot away baby doll.
____
Matt really is superdy duperdy awesome. and if you bring him a lamb gyro, he'll give you a better tattoo. obviously i'd recommend him if you are looking to having a tattoo done. He can be found in Belltown at Under The Needle – I really was fond of the high ceilings and art on their walls. plus it was spick and span clean, you could take your mom there.
You can see Matt's Portfolio HERE which also shows a few of a pal of mine…Christian's are the awesome scripture inspired pieces from his sleeve (umbrella, treasure chest, rooster, salt n pepper, christ….) enjoy!
***oh ya, the "pain"*** …...I happen to really think the feeling of getting tattooed it awesome. and i have an oddly high pain tolerance. it's a sweet feeling and yes…..this is addicting. watch out. most pained parts: "i" on my arm (such thin skin) and over one letter on my side that was right on my rib. that is all. and my arm has been quite tender since. can't wait til they're all healed up!