I'm pumped to announce that I'll be joining in on the creative team behind Do The Extraordinary  for their Fall 2011 launch. Starting in December, I'll be shooting for this wicked brand, 12 athletes and their new line of fashionable street athletic wear. There is a whole lot of talented creatives that this brand goes hand in hand with. Recently the CEO, Justin Kercher  and I sat down, he shared the vision and story  behind this brand, about what shooting for them would look like. I'm not giving too much away now….but their style and story is exactly what i love being a part of, plus i would actually wear their clothes….which is a bonus.
my favorite line in the DTE story  is: I am tired of fitting into corporate boxes. Im am tired of being expected to conform. I am tired of the mediocrity. I want more.
kind of gets you excited, doesn't it?
this brand is about extraordinary things, that we, the every-day people do. about our generation. about giving back. about all of which got me on board and excited in about a second. the DTE team is also made up by Richard Blayne, who you may have seen on Project Runway and Shaun Alexander ….who you may have seen, ummm in the NFL.

all around awesome team and a brand that i am excited to work with….BUUUUT:
THIS IS WHERE YOU COME IN.
from now until November 26th, there is an open model casting call for those who want to get in on all of this. Think you have what it takes!? great. below are all the details you'll need.
take a read. see if you're a fit. bam. DO THE EXTRAORDINARY.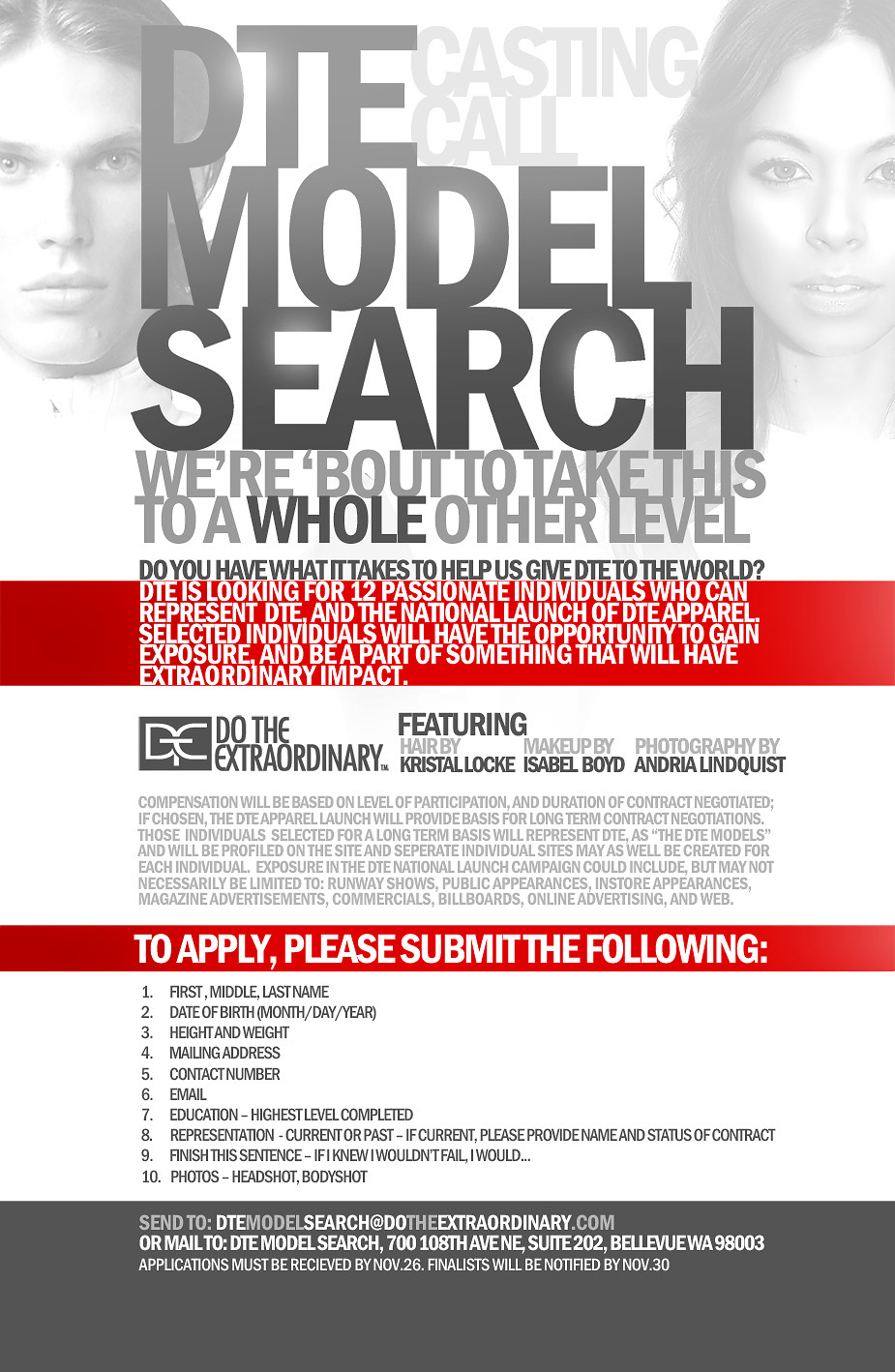 You can check out Do The Extraordinary HERE.
They have partnered with Stop Child Trafficking Now on their Red with Love shirts, which you can see HERE.
so many good things centered around this brand. so i'll just stop here and say…..check em out and stay tuned for more details on our shoots and behind the scenes coming up in December!