One thing I've learned in photography is staying true to my heart and trusting my gut. When I see a spot I know will just be sick and pretty much the way I have approached anything I have touched thus far: It's been exactly the way I felt it was supposed to go. Call it faith, a hunch or just a gut reaction – I am sensitive to follow my heart and how I feel my business should be ran.
Well, new topic and new hunch. A month or so ago I mentioned that I was toying with only offering all-day packages. I got fantastic feedback and since then it was just something I knew was right for me. Well, weddings are filling my inbox daily and so my gut tells me it's time to talk.
I have a strong opinion about things and I'm learning more and more to just say em so here goes me being frank. I have never felt right sending over 5 package options to my brides. I feel like I'm bargaining and that in the long run, both of us are getting the short end of the stick. I hate that feeling. Every bride wants the same thing – and you see, so do i: every minute of their wedding to be captured.
I absolutely believe that choosing a wedding photographer is one of the biggest decisions you'll make in the planning process – besides the napkin color, of course. Whether you know it or not, this person has the power to make you feel beautiful, special and capture intimate moments from one of the most special days in your life that when the day is over and your dress is in a box…your photos from that day will like your walls and remind you of something so incredible. Your photographer can just be another person at your wedding, or they can be a huge influence and impact on your wedding…I'll go for the latter.
Some may think of a photographer on the backburner of their plans, and that's fine. I want the couples that I work with to have photography at the forefront. I think that you should spend your time searching out a photographer who fits the style you want your wedding and relationship to be captured like. It should be about a perfect match of personality and passion of that photographer, not what package fits you.
To me, photography is storytelling. A wedding is the epitome of a story to be told. One that starts with a meeting, dating, the engagement and then peaks with a day that is so jam packed with symbolism, commitment and love. From the beginning, I want to meet you two, hear your story, plan an e-session that fits you, share your story with others, be there to capture every minute of your wedding. You see, this decision is partly for selfish reasons too. I have a very clear idea of what an image connected to my name will look like and with weddings, it's the same way. When I hand over a finished product…it will be when I can tell the FULL story. It's the only way I feel right.
So, the decision has been made. My heart just feels it's the way to go. I will only be offering all-day packages. And it's not about the "package" it's about one question: who.  I want my couples to have ONE decision to make and one that ends in, "Yes, we want Andria to shoot our wedding" and then know the rest is covered.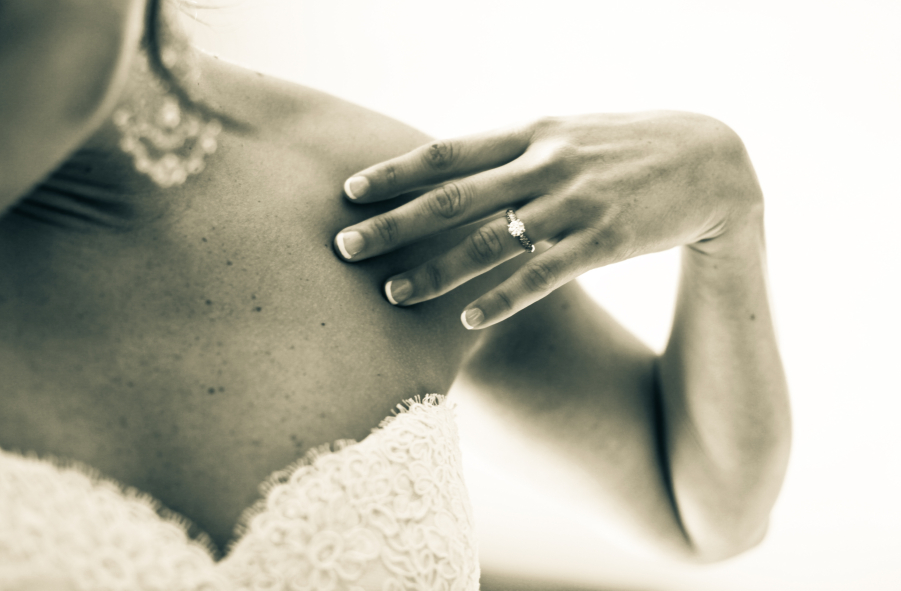 Here's my reasoning:
I couldn't love this more, so it doesn't feel like work. An accountant may work hourly, but I could do this all day every day
I'm a morning person and I love coffee, so really, it's ok…I'll be there when you start getting ready.
I don't wear a watch, so I'm not very concerned with leaving at the top of the hour or when 8 hours hits.
I'll never ask you to rearrange your cake cutting so that you can have it shot. I'll be there.
I know some "businessman" could look at this format and say, wow, you're really missing out on possible money with the hourly thing. That's fine, you stick to your numbers and I'll stick to shooting.
I like the candid shots. So don't expect me to ask you to reenact your mom lacing up your dress. Not even close.
If you let me, we can come out of this as close friends and you'll have some fantastic photos of the best day of your life. Sounds like a rockin deal to me.
________
All in all. This is just the way it has to be. I know most photographers are into the whole package and hour thing, but I'm gonna do it my way and that's that. I just needed to come out and say it. I know there's a risk in doing this but i took a risk last year in coming out and saying I knew my calling in life was to be a photographer and that has gone pretty well so far…so I have faith in this risk too.
I talked to 6 (yes SIX – woohoo) new brides over the weekend, so since I was typing all this in every email it just fit that I make it public. It's crazy, all of a sudden I'm booking things into October of 2011 and I couldn't be more excited. I just want to be upfront and set things straight. If you book me, you can count on me being there for pretty much everything that happens. And no, you won't have to pay some hidden fee to see your photos or print them – and honey, you don't have to ask if I'll travel for it, why yes…of course I will. I'd love to.  There will be options of albums, prints, boudoir, secret proposal shoots, and all that can be added on, but the base is…I'll be there every step of the day.  You can count on me telling your story with words and images and I would just be thrilled to do so.
I have a great feeling about this decision and I'm excited to bring so many FULL stories to you with every wedding I do.
Sound good? K. great. see you at your wedding.